Have some phun:
Specialty American Candy Shops Online
Art Works [Stephen Kaltenbach from the 1960s]
NASA: Astronomy Picture of the Day
Aphorisms Galore Feed your wit
ACME Labelmaker hours o' phun for everyone.

International Society of Hot Sauce Aficianados
ACME Labs has tons of other great stuff to do also,
so look around
On the Idea of Order at Key West (coming soon)
The Daily .WAV - you won't believe this site.
Clips from tv and movies.
------------WARNING! Bookish stuff ----------------
->skip if you are illiterate
americanliterature.com ("A Chapter a Day")

The Beinecke-Current Exhibitions

Treasures of The British Library

Typofile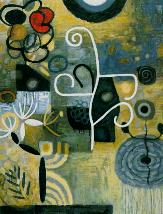 References - a painting by Barbara Grad - click on
the painting to see it enlarged (big file)
for Mycophiles-if have you have to ask, don't bother
Charlo's Death to Smiley Faces Game-not available
Space-The AVI movie by Charlie Honig (click on the image to make it
play
The Animal Attack Files, compiled by Igor Eximel
Two videos by Charlie-not available

Dreams
Italia MCMXCVII-not available
This is what I'm supposed to be doing when I'm reading instead.